BDCMINISTRIES
Greetings dear friends,
I'm Bruce Collins. I am an evangelist and teacher of the Bible. I became a child of God by faith in the person and work of the Lord Jesus Christ on November 24, 1963 and have tried to serve the Lord in various capacities since then. I am presently a self-employed minister of the Gospel. I do not work for an organization but I try to serve the Lord in the best way that I can wherever He leads. That means that my wife and I have our financial needs met by the Lord as we do not have a salary from any church or organization. We believe that the Gospel is free so we have never made a charge for our services.
I am available for Bible studies, conferences, Gospel meetings, children's meetings and camp work. I have traveled throughout much of the United States and Canada in my service for the Lord. My wife helps me, and we attend the Bethany Bible Chapel in Cedar Falls, Iowa. They have encouraged us by commending us for this work.
My wife, Geneva and I live in Waterloo, Iowa. We have four children. One of them is married and has provided us with two grandchildren.
This web site has a weekly meditation that I hope will encourage you. It has links to literature and organizations that I think are helpful. You can also listen to my weekly radio program here.
Yours because of Calvary,
Bruce Collins
3828 Memory Lane
Waterloo, IA 50701-9351
319.230.9140
collinsbd@hotmail.com
INDEX:
If you would like to read a classic Gospel Tract called GOD'S WAY OF SALVATION go here
For another classic Gospel Tract called God is Satisfied! Are You go here
For Important Personal Scriptures go here
For an open letter to my friends and neighbors go here
For the story of how I was saved go here
For the story of how my wife was saved go here
For the story of Merlyn VandeKrol–You Have About a Year to live! (a friend who died from cancer) go here
For the Rest of the Story–Merlyn's Wife Karen go here
For answers to questions that I have been asked go here
For a women's perspective on head coverings go here
For a manual on how to preach the Gospel that has been used with camp counselors go here
For an OVERVIEW OF THE BIBLE AND SOME PRINCIPLES OF BIBLICAL INTERPRETATION go here
For a PROPHETIC CHART go here
For a published article on FAITh, What is it? go here
For the story of the George Street Evangelist go to George Street
For links to other helpful websites go here
For the On-Line Blue Letter Bible go here
For the On-Line Bible Studies Tool go here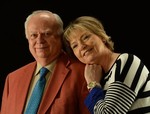 Bruce and Geneva
Trust
If we are faithless, He remains faithful; He cannot deny Himself. (2 Timothy 2:13 NKJV)
We who are believers trust the Lord because we are confident that He tells us the truth in the Bible. The prophecies that were fulfilled with the Lord's first coming, prophecies that were written many years before their fulfillment, give us confidence in the Bible. What the Bible says about the heart of each of us, also gives us reason to believe that the Bible is the actual Word of God that came from God and that it is dependable. We also believe that God gave us the Bible because in the text He says He did. Through it many of us say that we trust the Lord, but can the Lord trust us?
Tests
Solomon started out well but was turned aside by foreign wives. Late in life he may have realized his error and he may have been restored to fellowship with the Lord. I base that on some of the things that he says in the book of Ecclesiastes which likely was written late in his life. He says, "Let us hear the conclusion of the whole matter: Fear God, and keep his commandments: for this is the whole duty of man (Ecclesiastes 12:13 KJV)."
It appears that all of the original twelve apostles except Judas were trustworthy, even to the point of being willing to die as martyrs for the Lord and for the Gospel. Paul, the apostle that saw himself as the chiefest of sinners, faithfully preached the Gospel in Rome and, since he appeared before Caesar, likely preached the gospel to Nero who was ruling about the time that Paul was condemned. Paul was faithful although no man stood with him when he defended himself to Caesar. He says, "At my first defense no one stood with me, but all forsook me. May it not be charged against them (2 Timothy 4:16 NKJV)." Wouldn't it be something if Nero ended up in heaven through Paul's testimony while those who are skeptics today miss out on God's great plan of salvation!
We know of people, missionaries in particular, that gave up everything in order to spread the Gospel. We know that the Lord trusted them. We know of people who have been "trusted" with trials that have encouraged others and which helped to spread the Gospel.
Examples of Faithfulness
Daniel and his three friends were able to overcome the peer pressure of the Babylon Institute for the Magic Arts, in order to be faithful to the Lord. The three friends were thrown into a burning fiery furnace because of their faithfulness to God. They would not bow down to an image of Nebuchadnezzar even though they knew the consequences and had not been assured of deliverance because of their faithfulness. Daniel was thrown into a den of lions because He prayed to God faithfully when he was only supposed to pray to Darius. Esther was willing to risk her life in order to save the lives of her fellow countrymen who were in captivity in Babylon. Hebrews 11 gives us a list of people who were faithful in the Old Testament. They were considered faithful even though in many cases their lives had what we call "flaws."
Peer Pressure
Peer pressure (often from less than committed Christians) causes all of us to pause and ask ourselves if standing by our convictions is really necessary to please God. It seems that what appears to be success even in spiritual things is often achieved by those who do not walk the path that we are convinced believers should walk.
I wonder what kind of rewards most of us are going to have when we meet the Lord. Will we be among those who invested our talents wisely and gained something for the Lord and for eternity?
Will we be among those that the Lord was able to trust?
Meditation for the week of June 4, 2023
For Archived Radio Programs go here
For Archived Meditations go here
THREE MUSTS:
Do not marvel that I said to you, 'You must be born again.' (John 3:7 NKJV)
And as Moses lifted up the serpent in the wilderness, even so must the Son of Man be lifted up, that whoever believes in Him should not perish but have eternal life. (John 3:14-15 NKJV)
Nor is there salvation in any other, for there is no other name under heaven given among men by which we must be saved."
(Acts 4:12 NKJV)