BDCMINISTRIES
Greetings dear friends,
I'm Bruce Collins. I am an evangelist and teacher of the Bible. I became a child of God by faith in the person and work of the Lord Jesus Christ on November 24, 1963 and have tried to serve the Lord in various capacities since then. I am presently a self-employed minister of the Gospel. I do not work for an organization but I try to serve the Lord in the best way that I can wherever He leads. That means that my wife and I have our financial needs met by the Lord as we do not have a salary from any church or organization. We believe that the Gospel is free so we have never made a charge for our services.
I am available for Bible studies, conferences, Gospel meetings, children's meetings and camp work. I have traveled throughout much of the United States and Canada in my service for the Lord. My wife helps me, and we attend the Bethany Bible Chapel in Cedar Falls, Iowa. They have encouraged us by commending us for this work.
My wife, Geneva and I live in Waterloo, Iowa. We have four children. One of them is married and has provided us with two grandchildren.
This web site has a weekly meditation that I hope will encourage you. It has links to literature and organizations that I think are helpful. You can also listen to my weekly radio program here.
Yours because of Calvary,
Bruce Collins
3828 Memory Lane
Waterloo, IA 50701-9351
319.230.9140
collinsbd@hotmail.com
INDEX:
If you would like to read a classic Gospel Tract called GOD'S WAY OF SALVATION go here
For another classic Gospel Tract called God is Satisfied! Are You go here
For Important Personal Scriptures go here
For an open letter to my friends and neighbors go here
For the story of how I was saved go here
For the story of how my wife was saved go here
For the story of Merlyn VandeKrol–You Have About a Year to live! (a friend who died from cancer) go here
For the Rest of the Story–Merlyn's Wife Karen go here
For answers to questions that I have been asked go here
For a women's perspective on head coverings go here
For a manual on how to preach the Gospel that has been used with camp counselors go here
For an OVERVIEW OF THE BIBLE AND SOME PRINCIPLES OF BIBLICAL INTERPRETATION go here
For a PROPHETIC CHART go here
For a published article on FAITh, What is it? go here
For the story of the George Street Evangelist go to George Street
For links to other helpful websites go here
For the On-Line Blue Letter Bible go here
For the On-Line Bible Studies Tool go here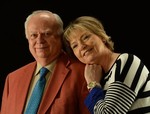 Bruce and Geneva
Can the Unsaved Speak for God?
Balaam's Donkey
Apparently unsaved people can know God's mind and speak for him. I make that statement based on the fact that Balaam's donkey spoke for God to Balaam and he was certainly not "saved." (See Numbers 22)
"Then Balak's anger was aroused against Balaam, and he struck his hands together; and Balak said to Balaam, "I called you to curse my enemies, and look, you have bountifully blessed them these three times! "Now therefore, flee to your place. I said I would greatly honor you, but in fact,
the LORD has kept you back from honor
."" (Numbers 24:10-11 NKJV)
"They have forsaken the right way and gone astray, following the way of Balaam the son of Beor, who loved the wages of unrighteousness;" (2 Peter 2:15 NKJV)
"Woe to them! For they have gone in the way of Cain, have run greedily in the error of Balaam for profit, and perished in the rebellion of Korah." (Jude 1:11 NKJV)
""But I have a few things against you, because you have there those who hold the doctrine of Balaam, who taught Balak to put a stumbling block before the children of Israel, to eat things sacrificed to idols, and to commit sexual immorality." (Revelation 2:14 NKJV)
Questions about Balaam and my Answers
Reading about Balaam has caused me to ask myself some questions. My conclusions may not satisfy you but they satisfy me. But as per usual, I reserve the right to change my mind without notice. We read the story of Balaam in Numbers in the Old Testament and he is referenced three times in the New Testament.
1. Was Balaam a "believer"? No and neither was his donkey but God spoke through both.
2. Do the unsaved know the will of God? Absolutely and sometimes they know it better than the truly saved. It is quite evident that Satan and demons in the New Testament knew who the Lord was.
3. Does God speak through the unsaved? Yes, and again he spoke through a donkey as well as through Balaam.
4. Do the unsaved that seem to have prophetic powers know how to defeat the true believer? Yes, and they have no real love for the true worshipers of Jehovah in the Old Testament and of the Lord in the New.
5. How do we discern a man like Balaam? MONEY, the wages of unrighteousness. Peter calls it a desire for profit. Balaam was being held back from honor by only prophesying what the Lord had told him to say.
The Sign That Really Counts
It is time to forsake the signs and wonders preachers and to start believing the preachers of the Gospel. The Gospel is the dynamite of God and is able to save. And it is the truth. It was verified by the empty tomb. That is the only sign that really counts. Believers need to pray for discernment. Unbelievers need to put their trust in the simple promises of Scripture rather than in men who seem to have unusual powers.
Meditation for the week of February 28, 2021
For Archived Radio Programs go here
For Archived Meditations go here
THREE MUSTS:
Do not marvel that I said to you, 'You must be born again.' (John 3:7 NKJV)
And as Moses lifted up the serpent in the wilderness, even so must the Son of Man be lifted up, that whoever believes in Him should not perish but have eternal life. (John 3:14-15 NKJV)
Nor is there salvation in any other, for there is no other name under heaven given among men by which we must be saved."
(Acts 4:12 NKJV)