BDCMINISTRIES
Greetings dear friends,
I'm Bruce Collins. I am an evangelist and teacher of the Bible. I became a child of God by faith in the person and work of the Lord Jesus Christ on November 24, 1963 and have tried to serve the Lord in various capacities since then. I am presently a self-employed minister of the Gospel. I do not work for an organization but I try to serve the Lord in the best way that I can wherever He leads. That means that my wife and I have our financial needs met by the Lord as we do not have a salary from any church or organization. We believe that the Gospel is free so we have never made a charge for our services.
I am available for Bible studies, conferences, Gospel meetings, children's meetings and camp work. I have traveled throughout much of the United States and Canada in my service for the Lord. My wife helps me, and we attend the Bethany Bible Chapel in Cedar Falls, Iowa. They have encouraged us by commending us for this work.
My wife, Geneva and I live in Waterloo, Iowa. We have four children. One of them is married and has provided us with two grandchildren.
This web site has a weekly meditation that I hope will encourage you. It has links to literature and organizations that I think are helpful. You can also listen to my weekly radio program here.
Yours because of Calvary,
Bruce Collins
3828 Memory Lane
Waterloo, IA 50701-9351
319.230.9140
collinsbd@hotmail.com
INDEX:
If you would like to read a classic Gospel Tract called GOD'S WAY OF SALVATION go here
For another classic Gospel Tract called God is Satisfied! Are You go here
For Important Personal Scriptures go here
For an open letter to my friends and neighbors go here
For the story of how I was saved go here
For the story of how my wife was saved go here
For the story of Merlyn VandeKrol–You Have About a Year to live! (a friend who died from cancer) go here
For the Rest of the Story–Merlyn's Wife Karen go here
For answers to questions that I have been asked go here
For a women's perspective on head coverings go here
For a manual on how to preach the Gospel that has been used with camp counselors go here
For an OVERVIEW OF THE BIBLE AND SOME PRINCIPLES OF BIBLICAL INTERPRETATION go here
For a PROPHETIC CHART go here
For a published article on FAITh, What is it? go here
For the story of the George Street Evangelist go to George Street
For links to other helpful websites go here
For the On-Line Blue Letter Bible go here
For the On-Line Bible Studies Tool go here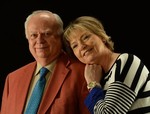 Bruce and Geneva
The Command
"Quench not the Spirit." (1 Thessalonians 5:19 KJV)
How can the Spirit be Quenched?
Basically the Holy Spirit is quenched when men and women take on the role that the Holy Spirit should have. The role of the Holy Spirit includes the following:
1. The Holy Spirit brings about the new birth: "Jesus answered, "Most assuredly, I say to you, unless one is born of water (the physical birth) and the Spirit (the new birth), he cannot enter the kingdom of God. That which is born of the flesh is flesh, and that which is born of the Spirit is spirit. Do not marvel that I said to you, You must be born again. The wind blows where it wishes, and you hear the sound of it, but cannot tell where it comes from and where it goes. So is everyone who is born of the Spirit." (John 3:5-8 NKJV)."
2. The Holy Spirit guides and teaches: "However, when He, the Spirit of truth, has come, He will guide you into all truth; for He will not speak on His own authority, but whatever He hears He will speak; and He will tell you things to come (John 16:13 NKJV)."
3. The Holy Spirit leads our worship: "But the hour is coming, and now is, when the true worshipers will worship the Father in spirit and truth; for the Father is seeking such to worship Him. God is Spirit, and those who worship Him must worship in spirit and truth (John 4:23-24 NKJV)."
4. The Holy Spirit wants to fill us (or take control of us as believers):
"And do not be drunk with wine, in which is dissipation; but be filled with the Spirit. Speaking to one another in psalms and hymns and spiritual songs, singing and making melody in your heart to the Lord (Ephesians 5:18-19 NKJV)."
Do we Let the Holy Spirit do His Work?
In our church meetings we have moved to a model that more closely resembles a business model than a new testament church model where the Holy Spirit guides, teaches and gives life. We press people and children for conversions before the Holy Spirit has been allowed to convict of sin and judgment to come (John 16:8). In our personal lives and in our church practices, we often say that we have to do things contrary to what the word of God teaches (and the Spirit and the Word are always in agreement) because following the scriptural patterns just doesn't work today.
Question?
I know that the Holy Spirit and the Word of God always work together. For example: "The earth was without form, and void; and darkness was on the face of the deep. And the Spirit of God was hovering over the face of the waters. Then God said, 'Let there be light'; and there was light (Genesis 1:2-3 NKJV)." Also, "And take the helmet of salvation, and the sword of the Spirit, which is the word of God (Ephesians 6:17 NKJV)." I wonder how much blessing we miss out on today because of our lack of faith in the Spirit's ability to guide and teach and lead. I personally wonder if I have ever really known what it is to let the Holy Spirit take charge in my life. If we are truly saved He took charge using the Word of God when we were convicted and converted. But did the leading of the Holy Spirit stop there? Do we tend to take back control in our personal lives and church meetings after we are saved?
Paul knew the nature of man. No doubt he knew that we tend to quench the Holy Spirit. And that is why he writes, "Quench not the Spirit."
Meditation for the week of October 17, 2021
Archived Meditations
For Archived Radio Programs go here
For Archived Meditations go here
THREE MUSTS:
Do not marvel that I said to you, 'You must be born again.' (John 3:7 NKJV)
And as Moses lifted up the serpent in the wilderness, even so must the Son of Man be lifted up, that whoever believes in Him should not perish but have eternal life. (John 3:14-15 NKJV)
Nor is there salvation in any other, for there is no other name under heaven given among men by which we must be saved."
(Acts 4:12 NKJV)