BDCMINISTRIES
Greetings dear friends,
I'm Bruce Collins. I am an evangelist and teacher of the Bible. I became a child of God by faith in the person and work of the Lord Jesus Christ on November 24, 1963 and have tried to serve the Lord in various capacities since then. I am presently a self-employed minister of the Gospel. I do not work for an organization but I try to serve the Lord in the best way that I can wherever He leads. That means that my wife and I have our financial needs met by the Lord as we do not have a salary from any church or organization. We believe that the Gospel is free so we have never made a charge for our services.
I am available for Bible studies, conferences, Gospel meetings, children's meetings and camp work. I have traveled throughout much of the United States and Canada in my service for the Lord. My wife helps me, and we attend the Bethany Bible Chapel in Cedar Falls, Iowa. They have encouraged us by commending us for this work.
My wife, Geneva and I live in Waterloo, Iowa. We have four children. One of them is married and has provided us with two grandchildren.
This web site has a weekly meditation that I hope will encourage you. It has links to literature and organizations that I think are helpful. You can also listen to my weekly radio program here.
Yours because of Calvary,
Bruce Collins
3828 Memory Lane
Waterloo, IA 50701-9351
319.230.9140
collinsbd@hotmail.com
INDEX:
If you would like to read a classic Gospel Tract called GOD'S WAY OF SALVATION go here
For another classic Gospel Tract called God is Satisfied! Are You go here
For Important Personal Scriptures go here
For an open letter to my friends and neighbors go here
For the story of how I was saved go here
For the story of how my wife was saved go here
For the story of Merlyn VandeKrol–You Have About a Year to live! (a friend who died from cancer) go here
For the Rest of the Story–Merlyn's Wife Karen go here
For answers to questions that I have been asked go here
For a women's perspective on head coverings go here
For a manual on how to preach the Gospel that has been used with camp counselors go here
For an OVERVIEW OF THE BIBLE AND SOME PRINCIPLES OF BIBLICAL INTERPRETATION go here
For a PROPHETIC CHART go here
For a published article on FAITh, What is it? go here
For the story of the George Street Evangelist go to George Street
For links to other helpful websites go here
For the On-Line Blue Letter Bible go here
For the On-Line Bible Studies Tool go here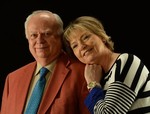 Bruce and Geneva
The Problem with Anxiety
And Jesus answered and said to her, "Martha, Martha, you are worried and troubled about many things. (42) "But one thing is needed, and Mary has chosen that good part, which will not be taken away from her. (Luke 10:41-42 NKJV)
Martha
Martha was a servant's servant. But when the Lord came to visit, Mary, her sister, sat and spent time with the "company" which left Martha to do all the work of setting out the china and making sure that the roast lamb was properly prepared. Martha needed help and she wasn't getting it from Mary But Mary does not seem to be anxious. Obviously, she is enjoying the Lord's company and she could care less if the meal was ready and the table was set and the rugs were vacuumed. Now I understand that the Lord commended Mary and he cautioned Martha. She was so busy that she was missing out on a great time with the Lord. I understand that. But I identify with Martha. Who was going to do the work if she didn't?
The Problem with Anxiety that can be Cured
When the Lord was anticipating his coming crucifixion in the garden, he said, "Father, if it is Your will, take this cup away from Me; nevertheless not My will, but Yours, be done (Luke 22:42 NKJV)."
Now the Lord knew what was going to happen to Him and He was willing to accept the plan of the Father that had been laid out in an eternity past. He was in total submission to that plan. But often we do not know what the plan of God is when we pray and we say things like, "the Lord's will be done." However, do we really mean that? I mean do we really have the ability to accept the Lord's will if it is different from our will? I think that is a great cause of anxiety. We could avoid a lot of anxious nights if we meant it when we say, "thy will be done on earth as it is in heaven."
One of My Greatest Anxieties
There are people that I would like to see in heaven and I don't know if they are really prepared to meet the Lord or not. I believe that every person has an individual responsibility to either believe the Lord and trust Him or to reject Him. So I am not really sure what promise I have when I pray for people to be saved. Can my prayers save them? No! Should I pray for them to be saved? Yes! But therein is a great cause for anxiety.
Conclusion
I know that we are to "Be anxious for nothing (Philippians 4:6)." I know that being anxious for a Christian means that we are having a problem with trusting the Lord. But if I quit worrying about the serving, won't I be considered lazy? If I pray "in the Lord's will" and He doesn't respond as I think He should, does that mean that I was not willing to subject myself to the Father's will? If I pray for people to be saved or restored to the Lord, can I honestly say that I know that my prayers are going to make a difference? I come by anxiety honestly. I suspect some of you do as well. Probably the solution for anxiety starts with admitting that we are frail in this area. We need to quit acting like we have it all together. Otherwise we will be anxious about our anxiety.
Meditation for the week of January 17, 2021
For Archived Radio Programs go here
For Archived Meditations go here
THREE MUSTS:
Do not marvel that I said to you, 'You must be born again.' (John 3:7 NKJV)
And as Moses lifted up the serpent in the wilderness, even so must the Son of Man be lifted up, that whoever believes in Him should not perish but have eternal life. (John 3:14-15 NKJV)
Nor is there salvation in any other, for there is no other name under heaven given among men by which we must be saved."
(Acts 4:12 NKJV)