BDCMINISTRIES
Greetings dear friends,
I'm Bruce Collins. I am an evangelist and teacher of the Bible. I became a child of God by faith in the person and work of the Lord Jesus Christ on November 24, 1963 and have tried to serve the Lord in various capacities since then. I am presently a self-employed minister of the Gospel. I do not work for an organization but I try to serve the Lord in the best way that I can wherever He leads. That means that my wife and I have our financial needs met by the Lord as we do not have a salary from any church or organization. We believe that the Gospel is free so we have never made a charge for our services.
I am available for Bible studies, conferences, Gospel meetings, children's meetings and camp work. I have traveled throughout much of the United States and Canada in my service for the Lord. My wife helps me, and we attend the Bethany Bible Chapel in Cedar Falls, Iowa. They have encouraged us by commending us for this work.
My wife, Geneva and I live in Waterloo, Iowa. We have four children. One of them is married and has provided us with two grandchildren.
This web site has a weekly meditation that I hope will encourage you. It has links to literature and organizations that I think are helpful. You can also listen to my weekly radio program here.
Yours because of Calvary,
Bruce Collins
3828 Memory Lane
Waterloo, IA 50701-9351
319.230.9140
collinsbd@hotmail.com
INDEX:
If you would like to read a classic Gospel Tract called GOD'S WAY OF SALVATION go here
For another classic Gospel Tract called God is Satisfied! Are You go here
For Important Personal Scriptures go here
For an open letter to my friends and neighbors go here
For the story of how I was saved go here
For the story of how my wife was saved go here
For the story of Merlyn VandeKrol–You Have About a Year to live! (a friend who died from cancer) go here
For the Rest of the Story–Merlyn's Wife Karen go here
For answers to questions that I have been asked go here
For a women's perspective on head coverings go here
For a manual on how to preach the Gospel that has been used with camp counselors go here
For an OVERVIEW OF THE BIBLE AND SOME PRINCIPLES OF BIBLICAL INTERPRETATION go here
For a PROPHETIC CHART go here
For the story of the George Street Evangelist go to George Street
For links to other helpful websites go here
For the On-Line Blue Letter Bible go here
For the On-Line Bible Studies Tool go here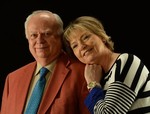 Of One Accord
When the Day of Pentecost had fully come, they were all with one accord in one place. (Acts 2:1 NKJV)
Forty Days
In Acts 1 verse 3 we read that the Lord presented Himself alive (to his apostles) after His suffering by many infallible proofs, being seen by them for forty days and speaking of the things pertaining to the kingdom of God. That forty days must have been memorable. The sorrow of the cross had been turned into the joy of the resurrection. He spoke to them of the things concerning the kingdom. He prepared breakfast for some of them who had gone fishing. He spoke to two disciples on the way to Emmaus about the prophetic old testament scriptures dealing with His suffering and glorification.
There are periods of time in our lives that we don't forget. I don't ever expect to forget the trouble and sorrow that I found when I wanted to know what it meant to be born again. I will never forget the relief associated with finding out that I didn't need to wait to be saved because Christ had already died to save me. I remember that I had asked the Lord to save me and while the Lord answered that prayer, I got no immediate relief from praying. I prayed after I was saved, but I called on the name of the Lord because I was saved and not to get saved. (See Romans 10:13 AND 14.) I believed what God said that afternoon. After I was saved, I had the word of God to assure me of the truth that Christ had died to save me.
I will never forget the joy of finding out that my brother had also found peace with God after I told him that I knew I was saved. I will never forget my wedding day. I will never forget time spent in Belize and time spent in Nassau as well as one cruise that we have taken. I will never forget some of the gospel meetings held in rented buildings and tents. I will never forget the storms that we experienced in some of those tent meetings. I will never forget the birth of my children. And I could go on and on. Some of these experiences are shared experiences that have created bonds with those who were there at the time.
I suspect the apostles never forgot those forty days between the resurrection and the ascension of the Lord. That time had to be precious. It was a shared experience that must have drawn them together. They had a teacher that they trusted. Before the cross, they seemed unable to accept His crucifixion, but now they understood. This common experience and the wonder of all that had happened must have caused them to bond, and that is likely one of the reasons why they were with one accord in one place on the day of Pentecost. They likely were also together and of one accord because of their fear of the Jews. One of the things the Lord had taught them was to expect the same rejection and persecution that He had experienced.
One Accord in One Place
What does it mean to be in one accord? Apparently, it means to do things together, to do things in unison. There are at least six times in the Acts of the Apostles that the early church was in one accord. In addition, there are several things that they did together. They prayed together; they remembered the Lord together. The early church was "together" in helping one another (see Acts 2:44). They were together to hear missionary reports. They gathered together to deal with gross sin in the church.
In Hebrews 10:25, the "togetherness" must have been waning since the writer had to admonish the Jewish Christians to not forsake the assembling of themselves together. The prayed that the church would be "one" even as the Father and Christ were one. But Christians are more known for division than for unity. Being of one accord and doing things together obviously requires agreement on how to be saved and how to please the Lord after we are saved. Being of one accord, doing things together and agreeing would lead to sweet fellowship (or partnership). I suspect that our only hope for that happening in our lifetime as it did in the early church is if the Lord comes soon. Because then we will all be "together" as the Lord intended.
For the Lord Himself will descend from heaven with a shout, with the voice of an archangel, and with the trumpet of God. And the dead in Christ will rise first. Then we who are alive and remain shall be caught up together with them in the clouds to meet the Lord in the air. And thus we shall always be with the Lord.(1 Thessalonians 4:16-17 NKJV)
I am looking forward to the day when we who have trusted Christ for salvation will all be together and with one accord will worship the Lord in heaven.
Meditation for the week of June 16, 2019
For Archived Radio Programs go here
For Archived Meditations go here
THREE MUSTS:
Do not marvel that I said to you, 'You must be born again.' (John 3:7 NKJV)
And as Moses lifted up the serpent in the wilderness, even so must the Son of Man be lifted up, that whoever believes in Him should not perish but have eternal life. (John 3:14-15 NKJV)
Nor is there salvation in any other, for there is no other name under heaven given among men by which we must be saved."
(Acts 4:12 NKJV)