BDCMINISTRIES
Greetings dear friends,
I'm Bruce Collins. I am an evangelist and teacher of the Bible. I became a child of God by faith in the person and work of the Lord Jesus Christ on November 24, 1963 and have tried to serve the Lord in various capacities since then. I am presently a self-employed minister of the Gospel. I do not work for an organization but I try to serve the Lord in the best way that I can wherever He leads. That means that my wife and I have our financial needs met by the Lord as we do not have a salary from any church or organization. We believe that the Gospel is free so we have never made a charge for our services.
I am available for Bible studies, conferences, Gospel meetings, children's meetings and camp work. I have traveled throughout much of the United States and Canada in my service for the Lord. My wife helps me, and we attend the Bethany Bible Chapel in Cedar Falls, Iowa. They have encouraged us by commending us for this work.
My wife, Geneva and I live in Waterloo, Iowa. We have four children. One of them is married and has provided us with two grandchildren.
This web site has a weekly meditation that I hope will encourage you. It has links to literature and organizations that I think are helpful. You can also listen to my weekly radio program here.
Yours because of Calvary,
Bruce Collins
4008 University Ave., Ste 1
Waterloo, IA 50701-5651

319.230.9140
collinsbd@hotmail.com
INDEX:
If you would like to read a classic Gospel Tract called GOD'S WAY OF SALVATION go here
For another classic Gospel Tract called God is Satisfied! Are You go here
For Important Personal Scriptures go here
For an open letter to my friends and neighbors go here
For the story of how I was saved go here
For the story of how my wife was saved go here
For the story of Merlyn VandeKrol–You Have About a Year to live! (a friend who died from cancer) go here
For the Rest of the Story–Merlyn's Wife Karen go here
For answers to questions that I have been asked go here
For a women's perspective on head coverings go here
For a manual on how to preach the Gospel that has been used with camp counselors go here
For an OVERVIEW OF THE BIBLE AND SOME PRINCIPLES OF BIBLICAL INTERPRETATION go here
For a PROPHETIC CHART go here
For a published article on FAITh, What is it? go here
For the story of the George Street Evangelist go to George Street
For links to other helpful websites go here
For the On-Line Blue Letter Bible go here
For the On-Line Bible Studies Tool go here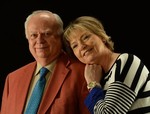 Bruce and Geneva
Under the Sun
Ecclesiastes 1:3 (NKJV)What profit has a man from all his labor In which he toils under the sun?
Futile, Pointless, Meaningless
Solomon, one of the wisest men who ever lived apart from the Lord, seemingly got very depressed when he considered his and our lives on this earth (under the sun). He called life futile, pointless and meaningless (depending on the translation of the Bible that we are using).
Ecclesiastes 12:8 (KJV) Vanity of vanities, saith the preacher; all is vanity.
Ecclesiastes 12:8 (ISV) "Utterly pointless," says the Teacher. "Everything is pointless."
Ecclesiastes 12:8 (NET) "Absolutely futile!" laments the Teacher, "All of these things are futile!"
Ecclesiastes 12:8 (NLT) "Everything is meaningless," says the Teacher, "completely meaningless."
Proverbs
Most of the book of Proverbs is written by Solomon. I sense that this was practical wisdom of a spiritual man. This was probably written after he had matured enough to understand that practical decisions have practical consequences, but likely before he had been unfaithful to the God who had appeared to him twice when he was young.
Ecclesiastes
Ecclesiastes was apparently written by Solomon late in life when he had seen the futility of all that he had accomplished. This book is the practical wisdom of a worldly man. I suspect it was written after he had realized his mistake in pleasing his pagan wives by building temples to their gods. Somehow I think we will meet Solomon in heaven but his bad decisions certainly affected others since the kingdom was divided because of his unfaithfulness. I know some think Solomon was never "saved" in the new testament sense but I think he was. Or, it could be argued that he was saved and lost his salvation because of his disobedience. I don't think that is possible. We need to make a distinction between our service and our salvation. Salvation is based on what God does for us and service is what we do for God because of what God has done for us. Solomon failed with regard to faithful service. He did a lot of good in building the temple according to the spirit inspired instructions given to his father and in establishing peace in the middle east during his reign. But he violated the command of God not to marry pagan wives. The wives changed him, he did not change them, and that is always what happens when we think we can influence unbelievers by yoking with them. God says, "DON'T DO IT!"
The Song of Solomon
The Song of Solomon is the spiritual wisdom of a spiritual man. There are many interpretations of the poem and one of them assumes that Solomon was wooing a woman who was in love with a shepherd. I would like to believe that the poem is the courtship of Solomon and the Shulamite woman and that Solomon is the shepherd. Whatever the case, I like the fact that when the Sulamite is asked by the daughters of Jerusalem (likely Solomon's harem) why she is so enamored with Solomon, she answers:
My beloved is white and ruddy, Chief among ten thousand.
His head is like the finest gold; His locks are wavy, And black as a raven.
His eyes are like doves By the rivers of waters, Washed with milk, And fitly set.
His cheeks are like a bed of spices, Banks of scented herbs. His lips are lilies, Dripping liquid myrrh.
His hands are rods of gold Set with beryl. His body is carved ivory Inlaid with sapphires.
His legs are pillars of marble Set on bases of fine gold. His countenance is like Lebanon, Excellent as the cedars.
His mouth is most sweet, Yes, he is altogether lovely. This is my beloved, And this is my friend, O daughters of Jerusalem!
Song of Solomon 5:10-16 (NKJV)
The Cure for Futility
Now I realize that I may not understand oriental poems but I do understand that two people are in love in this poem and they want to be together. They find each other attractive in every way. There is a point in the poem where they are apart and are looking for each other. That is depressing, but when they are together enjoying each other's company, life seems to glow.
If we make the case that this is a metaphor or poetic picture of the relationship between Christ and those He is courting today, then we have the solution for futility. That solution is to fall in love with the bridegroom who obviously has fallen in love with His bride (or bride to be depending on your interpretation). If we spent more time enjoying our courtship and less time trying to impress people with our accomplishments, we would likely be as happy as the bride in the Song of Solomon.
Conclusion
To be happy, we need to walk circumspectly (Proverbs), we need to realize that our "under the Son accomplishments" don't satisfy (Ecclesiastes); and we need to enjoy our relationship with the Lord who is our bridegroom (Song of Solomon).
Bruce Collins
Meditation for the weeks of September 17 and 24, 2023
For Archived Radio Programs go here
For Archived Meditations go here
THREE MUSTS:
Do not marvel that I said to you, 'You must be born again.' (John 3:7 NKJV)
And as Moses lifted up the serpent in the wilderness, even so must the Son of Man be lifted up, that whoever believes in Him should not perish but have eternal life. (John 3:14-15 NKJV)
Nor is there salvation in any other, for there is no other name under heaven given among men by which we must be saved."
(Acts 4:12 NKJV)