BDCMINISTRIES
Greetings dear friends,
I'm Bruce Collins. I am an evangelist and teacher of the Bible. I became a child of God by faith in the person and work of the Lord Jesus Christ on November 24, 1963 and have tried to serve the Lord in various capacities since then. I am presently a self-employed minister of the Gospel. I do not work for an organization but I try to serve the Lord in the best way that I can wherever He leads. That means that my wife and I have our financial needs met by the Lord as we do not have a salary from any church or organization. We believe that the Gospel is free so we have never made a charge for our services.
I am available for Bible studies, conferences, Gospel meetings, children's meetings and camp work. I have traveled throughout much of the United States and Canada in my service for the Lord. My wife helps me, and we attend the Bethany Bible Chapel in Cedar Falls, Iowa. They have encouraged us by commending us for this work.
My wife, Geneva and I live in Waterloo, Iowa. We have four children. One of them is married and has provided us with two grandchildren.
This web site has a weekly meditation that I hope will encourage you. It has links to literature and organizations that I think are helpful. You can also listen to my weekly radio program here.
Yours because of Calvary,
Bruce Collins
3828 Memory Lane
Waterloo, IA 50701-9351
319.230.9140
collinsbd@hotmail.com
INDEX:
If you would like to read a classic Gospel Tract called GOD'S WAY OF SALVATION go here
For another classic Gospel Tract called God is Satisfied! Are You go here
For Important Personal Scriptures go here
For an open letter to my friends and neighbors go here
For the story of how I was saved go here
For the story of how my wife was saved go here
For the story of Merlyn VandeKrol–You Have About a Year to live! (a friend who died from cancer) go here
For the Rest of the Story–Merlyn's Wife Karen go here
For answers to questions that I have been asked go here
For a women's perspective on head coverings go here
For a manual on how to preach the Gospel that has been used with camp counselors go here
For an OVERVIEW OF THE BIBLE AND SOME PRINCIPLES OF BIBLICAL INTERPRETATION go here
For a PROPHETIC CHART go here
For a published article on FAITh, What is it? go here
For the story of the George Street Evangelist go to George Street
For links to other helpful websites go here
For the On-Line Blue Letter Bible go here
For the On-Line Bible Studies Tool go here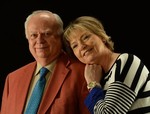 Bruce and Geneva
I am Thankful for the Holy Spirit
"But the Helper, the Holy Spirit, whom the Father will send in My name, He will teach you all things, and bring to your remembrance all things that I said to you." (John 14:26 NKJV)
"However, when He, the Spirit of truth, has come, He will guide you into all truth; for He will not speak on His own authority, but whatever He hears He will speak; and He will tell you things to come." (John 16:13 NKJV)
Different Kinds of Spirits
There seem to be many different kinds of spirits in this world. Some of them are lying spirits. (See 1 Kings 22). Some are familiar spirits or people that seem to be able to commune with the dead. There are evil spirits. But there is only one Holy Spirit. As I understand it, the Holy Spirit indwells every true believer. We read in Romans 8:9 NKJV, "But you are not in the flesh but in the Spirit, if indeed the Spirit of God dwells in you. Now if anyone does not have the Spirit of Christ, he is not His."
The Holy Spirit and the Word of God
The Holy Spirit and the Word of God always work together. We notice in Genesis 1 that the earth was without form and void; and darkness was on the face of the deep. And the Spirit of God was hovering over the face of the waters. Then God said, "Let there be light; and there was light. In Ephesians Paul says, "And take the helmet of salvation, and the sword of the Spirit, which is the word of God (Ephesians 6:17 NKJV)."
Because they work together, the Lord said, "Most assuredly, I say to you, unless one is born of water and the Spirit, he cannot enter the kingdom of God. That which is born of the flesh is flesh, and that which is born of the Spirit is spirit (John 3:5-6 NKJV)." Because Nicodemus wonders if one has to enter the second time into his mother's womb to be born again, likely the Lord is equating the water here to the natural birth and the spirit to the new birth. But how does the spirit accomplish this? Well, Peter gives us some additional understanding. He says, "having been born again, not of corruptible seed but incorruptible, through the word of God which lives and abides forever(1 Peter 1:23 NKJV)." I believe the Holy Spirit uses the Word of God to convict and to convert the unsaved. John 16 supports this view, "Nevertheless I tell you the truth. It is to your advantage that I go away; for if I do not go away, the Helper (the Holy Spirit) will not come to you; but if I depart, I will send Him to you. And when He has come, He will convict the world of sin, and of righteousness, and of judgment. Of sin, because they do not believe in Me; of righteousness, because I go to My Father and you see Me no more; of judgment, because the ruler of this world is judged (John 16:7-11 NKJV)." This is why I never tell someone to do something to be saved. I always take them to the Word of God and ask them if they understand basic salvation verses. No one is saved by what they do, they do because they have believed in or trusted the Lord by trusting His Word. The Holy Spirit does the convicting and the saving, we only provide the Word of God so the Spirit of God can do His Work.
Question
If all saved people are indwelt by the Holy Spirit and if the Holy Spirit is guiding us and teaching us, why are there so many different opinions on how to be saved, on the meaning and necessity of baptism, on the privilege of remembering the Lord by using a simple meal of bread and wine? Why is there so much confusion and disagreement on the doctrine of election and the doctrines of the Lord's coming? Why has the church been so divided on the issue of divorce and remarriage? Shouldn't we be guided to the "same truth.'" There is only one Truth that leads to heaven (John 14:6). I realize that the Bible is like a kaleidoscope where you can see many different beautiful patterns as you look into it and perhaps turn the instrument. But the different truths that we see in our Bibles as we study it and let the Holy Spirit teach us should be complementary and not contradictory. When the truths are contradictory, we can all be wrong but we cannot all be right
The Blessing of the Holy Spirit
I believe I am saved today because of the work of the Holy Spirit using the word of God that I was exposed to during my childhood and that I read for myself when I was concerned about being saved. I am glad for the Holy Spirit's guidance in my study of the Word of God. Yes, I use helps and other translations and some commentaries that I feel are reliable. But in the final analysis, there is a lot of teaching today that leaves me unsettled and I usually find that it is the Holy Spirit telling me to be careful.
I hope everyone reading this understands that we have not been left without the presence and the guidance of God. We have the Holy Spirit using the Word of God to convict us, convert us, and comfort us. He is the One who guides us into all truth.
Meditation for the week of November 28, 2021
Archived Meditations
For Archived Radio Programs go here
For Archived Meditations go here
THREE MUSTS:
Do not marvel that I said to you, 'You must be born again.' (John 3:7 NKJV)
And as Moses lifted up the serpent in the wilderness, even so must the Son of Man be lifted up, that whoever believes in Him should not perish but have eternal life. (John 3:14-15 NKJV)
Nor is there salvation in any other, for there is no other name under heaven given among men by which we must be saved."
(Acts 4:12 NKJV)