BDCMINISTRIES
Greetings dear friends,
I'm Bruce Collins. I am an evangelist and teacher of the Bible. I became a child of God by faith in the person and work of the Lord Jesus Christ on November 24, 1963 and have tried to serve the Lord in various capacities since then. I am presently a self-employed minister of the Gospel. I do not work for an organization but I try to serve the Lord in the best way that I can wherever He leads. That means that my wife and I have our financial needs met by the Lord as we do not have a salary from any church or organization. We believe that the Gospel is free so we have never made a charge for our services.
I am available for Bible studies, conferences, Gospel meetings, children's meetings and camp work. I have traveled throughout much of the United States and Canada in my service for the Lord. My wife helps me, and we attend the Bethany Bible Chapel in Cedar Falls, Iowa. They have encouraged us by commending us for this work.
My wife, Geneva and I live in Waterloo, Iowa. We have four children. One of them is married and has provided us with two grandchildren.
This web site has a weekly meditation that I hope will encourage you. It has links to literature and organizations that I think are helpful. You can also listen to my weekly radio program here.
Yours because of Calvary,
Bruce Collins
3828 Memory Lane
Waterloo, IA 50701-9351
319.230.9140
collinsbd@hotmail.com
INDEX:
If you would like to read a classic Gospel Tract called GOD'S WAY OF SALVATION go here
For another classic Gospel Tract called God is Satisfied! Are You go here
For Important Personal Scriptures go here
For an open letter to my friends and neighbors go here
For the story of how I was saved go here
For the story of how my wife was saved go here
For the story of Merlyn VandeKrol–You Have About a Year to live! (a friend who died from cancer) go here
For the Rest of the Story–Merlyn's Wife Karen go here
For answers to questions that I have been asked go here
For a women's perspective on head coverings go here
For a manual on how to preach the Gospel that has been used with camp counselors go here
For an OVERVIEW OF THE BIBLE AND SOME PRINCIPLES OF BIBLICAL INTERPRETATION go here
For a PROPHETIC CHART go here
For the story of the George Street Evangelist go to George Street
For links to other helpful websites go here
For the On-Line Blue Letter Bible go here
For the On-Line Bible Studies Tool go here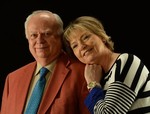 Can We Be Trusted?
Then the wrath of Elihu, the son of Barachel the Buzite, of the family of Ram, was aroused against Job; his wrath was aroused because he justified himself rather than God. Also against his three friends his wrath was aroused, because they had found no answer, and yet had condemned Job. (Job 32:2-3 NKJV)
Job
Job was a man much like many of us only a lot richer. He had been blessed by God and now calamity had come. He did not know that behind the scenes God was showing Satan that he had at least one faithful worshiper who worshiped Him and not his wealth or his family or his health. Job was being tried and he didn't know why. But God knew He could trust Job with this trial.
Job was like us because he says, "For the thing I greatly feared has come upon me, And what I dreaded has happened to me (Job 3:25 NKJV)." I would be led to believe that when he was being blessed, he wasn't at peace, but kept wondering if he would lose all that he had. Perhaps that is why rich people continually want more (as do all of us). We don't want to be satisfied with our "daily bread." We look around and see people who are destitute and keep wondering why the Lord has blessed us and not them. So, when calamity came, Job seemed to be expecting it, though he didn't understand why the calamity had come.
Elihu
Three older men had told Job why he was being afflicted. They knew! They had spoken from experience, from revelation, and from the point of view of religion. And they were agreed that Job had grievously sinned. However, when they are done condemning Job, Elihu comes on the scene out of nowhere. Some have speculated that this section of Job was added to the original manuscript to try to explain what had really happened. I don't know how God inspired and recorded Elihu and I don't know where Elihu came from, but I know that he states fairly succinctly in our verse for today what has been happening.
First, Elihu could see that Job was justifying himself rather than God. Don't we all do this? In other words, Job was not ready to admit that God had a right to put Him through this trial without telling him why. He had become self-righteous in his defense of himself even though he knew that "his redeemer lived."
Second, Elihu could see that Job's friends had tried and convicted Job of specific sins without any evidence. How many times have we assumed that because someone has had an accident or financial setback, it is because of something that they have done that didn't please God? Now that may be true, but if it is true the evidence should be clear, and the person should be confronted with the evidence. Many people assume God is chastising them for something that they have done wrong when in fact he may be bringing them through a trial as a witness to others and to Satan of their faithfulness. I believe it is best to ask people who are going through "deep waters" if they know of something for which God could be correcting them. If they honestly don't know of a gross sin, then they should be faithful to God and wait for the Lord to deliver them. A father should never discipline a child without telling them why. Otherwise the discipline is meaningless as correction. But if God sees fit to put us through trials when we have tried to be pleasing to Him, we need to justify God in that trial. Those trials are designed to strengthen our faith and are not discipline in the sense of correction. We may not know until eternity (hereafter) how our trial glorified God and witnessed to angels and to others.
Lessons from Job
If we are going through a trial because God is correcting us, He will surely tell us why He is "giving us a spanking". I have had spankings without knowing what I had done, and I can assure you it only causes resentment. God is not like that. He is a loving Father.
God doesn't have to tell us why we are going through trials. We should defend His right to do that even when we don't know why "trouble came."
When we come to faith in the Lord for salvation, that is the first step in really trusting Him. In order to grow in our faith, we sometimes have to travel roads that are way out of our comfort zone. But God does want us to trust him for things that we don't understand as well as for salvation. Becoming a Christian, makes us a target of Satan. If he can't keep us from salvation, he will try to destroy our fellowship. Some trials are simply because of the Evil One is out to destroy anything or anyone that glorifies the Lord Jesus. May we trust the Lord for salvation, and may we trust Him should He ask us to go through "deep waters."
Meditation for the week of July 7, 2019
For Archived Radio Programs go here
For Archived Meditations go here
THREE MUSTS:
Do not marvel that I said to you, 'You must be born again.' (John 3:7 NKJV)
And as Moses lifted up the serpent in the wilderness, even so must the Son of Man be lifted up, that whoever believes in Him should not perish but have eternal life. (John 3:14-15 NKJV)
Nor is there salvation in any other, for there is no other name under heaven given among men by which we must be saved."
(Acts 4:12 NKJV)