BDCMINISTRIES
Greetings dear friends,
I'm Bruce Collins. I am an evangelist and teacher of the Bible. I became a child of God by faith in the person and work of the Lord Jesus Christ on November 24, 1963 and have tried to serve the Lord in various capacities since then. I am presently a self-employed minister of the Gospel. I do not work for an organization but I try to serve the Lord in the best way that I can wherever He leads. That means that my wife and I have our financial needs met by the Lord as we do not have a salary from any church or organization. We believe that the Gospel is free so we have never made a charge for our services.
I am available for Bible studies, conferences, Gospel meetings, children's meetings and camp work. I have traveled throughout much of the United States and Canada in my service for the Lord. My wife helps me, and we attend the Bethany Bible Chapel in Cedar Falls, Iowa. They have encouraged us by commending us for this work.
My wife, Geneva and I live in Waterloo, Iowa. We have four children. One of them is married and has provided us with two grandchildren.
This web site has a weekly meditation that I hope will encourage you. It has links to literature and organizations that I think are helpful. You can also listen to my weekly radio program here.
Yours because of Calvary,
Bruce Collins
3828 Memory Lane
Waterloo, IA 50701-9351
319.230.9140
collinsbd@hotmail.com
INDEX:
If you would like to read a classic Gospel Tract called GOD'S WAY OF SALVATION go here
For another classic Gospel Tract called God is Satisfied! Are You go here
For Important Personal Scriptures go here
For an open letter to my friends and neighbors go here
For the story of how I was saved go here
For the story of how my wife was saved go here
For the story of Merlyn VandeKrol–You Have About a Year to live! (a friend who died from cancer) go here
For the Rest of the Story–Merlyn's Wife Karen go here
For answers to questions that I have been asked go here
For a women's perspective on head coverings go here
For a manual on how to preach the Gospel that has been used with camp counselors go here
For an OVERVIEW OF THE BIBLE AND SOME PRINCIPLES OF BIBLICAL INTERPRETATION go here
For a PROPHETIC CHART go here
For a published article on FAITh, What is it? go here
For the story of the George Street Evangelist go to George Street
For links to other helpful websites go here
For the On-Line Blue Letter Bible go here
For the On-Line Bible Studies Tool go here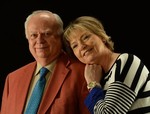 For Ever and Ever
Revelation 14:11 NKJV — "And the smoke of their torment ascends forever and ever; and they have no rest day or night, who worship the beast and his image, and whoever receives the mark of his name."
Revelation 20:10 NKJV — The devil, who deceived them, was cast into the lake of fire and brimstone where the beast and the false prophet are. And they will be tormented day and night forever and ever.
God is Eternal
Psalm 90:2 NKJV — Before the mountains were brought forth, Or ever You had formed the earth and the world, Even from everlasting to everlasting, You are God.
Some translations say from eternity to eternity you are God. Jehovah, one of the names for God, means the ever existing one. In Revelation 1:8, we read,, "I am the Alpha and the Omega, the Beginning and the End," says the Lord, "who is and who was and who is to come, the Almighty."
The Question without an Answer
How can someone who has no beginning exist? Maybe we can stretch our understanding to comprehend someone or something existing for ever and ever once it comes into existence, but where did God come from if He had no beginning? Of course, evolutionists would like to say that there is no God or that if there is He is just part of the evolutionary chain of events that lead us to where we are today with regard to creation. But that still does not answer the question, "Where did the material come from that started the evolutionary cycle?" I have personally never heard anyone who could answer that scientifically to my satisfaction. But my finite mind accepts the fact that there is a future eternity. After we are long gone, something is going to continue for ever and for ever. Whether it will be a world as we know it or something else, time will continue. I know people say that eternity is where time is no more, but my Bible describes eternity as "day and night forever and ever." So I personally believe there is time in eternity and that we are conscious there, either in heaven or in hell.
Eternity is Why I am a Believer in the Lord Jesus
I have been sitting in my study, reading and studying for the past two months because I jumped off a platform like a twenty-year-old (or maybe a forty-year-old) when I was a seventy-six-year-old. I keep encouraging myself by believing that in a few more weeks I am going to remove the leg brace and be able to once again drive a car and at least walk to the mailbox. In other words, this imprisonment is going to come to an end. When I have a dental procedure that I am not looking forward to, I get through it by reminding myself that in an hour or two it will be over. The only time I deceived myself was when I had a wisdom tooth extraction. The pain lasted for months. But it did finally end. But an eternity of torment for the unbeliever who dies will never end. Yes, I believe that and even though many people where I preach do not want me to preach about eternal conscious punishment, to be faithful to God and to my listeners I must. I used to think about dying without Christ and how long the torment would last and I simply did not want to endure eternity as an unbeliever, and I don't want anyone that I know to endure it either.
Eternal Life
Eternal life is sometimes translated as everlasting life. It is obtained upon believing in the Lord Jesus. But eternal life is more than just everlasting. It is life with quality and quantity. It is life from an eternal God with all the qualities of that eternal God, and it is a life for eternity. It will last forever. When a person who rejects Christ dies, I believe that they exist forever in a place of eternal torment. They have eternal existence but not eternal life.
Eternity is a long time. I believe the Lord when He says in John 5:24, "Most assuredly, I say to you, he who hears My word and believes in Him who sent Me has everlasting (eternal) life, and shall not come into judgment, but has passed from death into life." Whatever eternal life is it has to be a lot better than being tormented forever and ever simply because one wouldn't believe in the Eternal One who sacrificed HImself so that they could have eternal bliss.
We may make mistakes about whom to believe with regard to this pandemic. We may make mistakes as to whom we should trust with our investments and our insurance policies. But please don't make a mistake as to whom to believe about eternity.
Meditation for the week of August 2, 2020
For Archived Radio Programs go here
For Archived Meditations go here
THREE MUSTS:
Do not marvel that I said to you, 'You must be born again.' (John 3:7 NKJV)
And as Moses lifted up the serpent in the wilderness, even so must the Son of Man be lifted up, that whoever believes in Him should not perish but have eternal life. (John 3:14-15 NKJV)
Nor is there salvation in any other, for there is no other name under heaven given among men by which we must be saved."
(Acts 4:12 NKJV)