BDCMINISTRIES
Greetings dear friends,
I'm Bruce Collins. I am an evangelist and teacher of the Bible. I became a child of God by faith in the person and work of the Lord Jesus Christ on November 24, 1963 and have tried to serve the Lord in various capacities since then. I am presently a self-employed minister of the Gospel. I do not work for an organization but I try to serve the Lord in the best way that I can wherever He leads. That means that my wife and I have our financial needs met by the Lord as we do not have a salary from any church or organization. We believe that the Gospel is free so we have never made a charge for our services.
I am available for Bible studies, conferences, Gospel meetings, children's meetings and camp work. I have traveled throughout much of the United States and Canada in my service for the Lord. My wife helps me, and we attend the Bethany Bible Chapel in Cedar Falls, Iowa. They have encouraged us by commending us for this work.
My wife, Geneva and I live in Waterloo, Iowa. We have four children. One of them is married and has provided us with two grandchildren.
This web site has a weekly meditation that I hope will encourage you. It has links to literature and organizations that I think are helpful. You can also listen to my weekly radio program here.
Yours because of Calvary,
Bruce Collins
3828 Memory Lane
Waterloo, IA 50701-9351
319.230.9140
collinsbd@hotmail.com
INDEX:
If you would like to read a classic Gospel Tract called GOD'S WAY OF SALVATION go here
For another classic Gospel Tract called God is Satisfied! Are You go here
For Important Personal Scriptures go here
For an open letter to my friends and neighbors go here
For the story of how I was saved go here
For the story of how my wife was saved go here
For the story of Merlyn VandeKrol–You Have About a Year to live! (a friend who died from cancer) go here
For the Rest of the Story–Merlyn's Wife Karen go here
For answers to questions that I have been asked go here
For a women's perspective on head coverings go here
For a manual on how to preach the Gospel that has been used with camp counselors go here
For an OVERVIEW OF THE BIBLE AND SOME PRINCIPLES OF BIBLICAL INTERPRETATION go here
For a PROPHETIC CHART go here
For the story of the George Street Evangelist go to George Street
For links to other helpful websites go here
For the On-Line Blue Letter Bible go here
For the On-Line Bible Studies Tool go here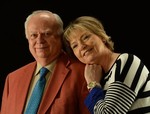 Our Ah-Ha Moment
Finally, there is laid up for me the crown of righteousness, which the Lord, the righteous Judge, will give to me on that Day, and not to me only but also to all who have loved His appearing. (2 Timothy 4:8 NKJV)
We need Hope and Joy
We all need something that motivates us to get up in the morning. We need to anticipate something with joy. We need what the Bible calls hope. There is an epidemic of depression in our society today because many people feel that life has no value, no point, and that the routine of raising children, and making a living is not very satisfying since at the end of it all there is a grave waiting. The unsaved really have "no hope" according to the Bible. That is truly depressing. However, for the Christian there is something to anticipate with joy.
The Appearing of the Lord
The appearing of the Lord seems to involve different prophetic events. He obviously appeared the first time as a baby in Bethlehem's manger. But that appearing ended in a crucifixion. He is also going to appear when He judges the world that has rejected Him as He cleanses the world of unbelievers so He can set up a righteous kingdom. But before He does that, He is going to save every truly born-again Christian from the wrath that is going to be poured out on this Christ-rejecting world. 1 Thessalonians 4:13-18 speaks of the catching away of the church. This glorious appearing has been the blessed hope every truly born-again Christian since Paul explained the rapture (or catching away) to the Thessalonians (See also Titus 2:13). The Lord does not tell us when that catching away is going to occur, but I see no Scriptural reason why it couldn't occur today. Prophecy or the signs of the times are for the Jews who seek after signs in order to believe God has spoken. We who are saved now need no signs. We should always be ready and watching for the Lord's return.
But when Paul talks about the appearing of the Lord in our passage, is he referring to the rapture of the church or to the revelation of the Lord to set up His kingdom or perhaps to the judgment seat of Christ where believers are judged for their faithfulness to the Lord? Most preachers that I listen to seem to think this has to do with the judgment seat of Christ. However, I would like to suggest that if it does, then the judgment seat of Christ takes place personally and immediately upon our death.
The Key to the Book
Paul says in 2 Timothy 4:6, "For I am already being poured out as a drink offering, and the time of my departure is at hand." He knows that his execution is near, and I believe that is the day that is on his mind. He has finished his race according to the next verse. Normally, crowns are handed out when the race is finished. And I believe that Paul is saying that when He is executed, the Lord will appear to Him. He had an epiphany on the Damascus Road, and he expects another one. An epiphany is an "ah-ha" moment. It is often expressed as a bright light or outshining of glory. Paul has mentioned "that day" three times in this book and while most think that he is talking about the judgment seat of Christ, I think he is talking about the day of his coming execution. Read that most encouraging passage in 2 Timothy 1:12, where Paul says he knows Who he has believed. Read about Onesiphorus who needs mercy in that day (2 Timothy 1:18). Onesiphorus will not need mercy after he dies, the Lord has taken care of that at the cross. But likely in befriending Paul, he too has been slated for martyrdom. He needs to be spared from the lion as Paul was. He needs mercy in how he dies not after he dies. And now Paul says, that the Lord is going to appear to Him at that day and give Him a crown a righteousness. Then he goes on to say that that appearing, and crown will be given to everyone that has loved (shown charity) to His appearing. This epiphany occurs at death.
I Believe
I believe that there just might be a bright light that accompanies the death of a believer. And even though we might miss out on the rapture when He will appear only to believers, we still will not miss out on His appearing. I believe the Lord will meet us when we cross over from time to eternity. And I am certainly glad that I don't need to worry about His appearing as an angry lamb when He appears to a Christ-rejecting word. We need to "occupy til He comes" and we certainly do not want to hasten the day of our deaths. But we can be encouraged to know that at death we are going to see the beauty and glorious majesty of the One who loved us and gave Himself for us.
I had an "ah-ha" moment when I first realized that Christ had already died to save me. I didn't need to wait for God to save me (which I was doing) because the work that saved was finished. I had a new personal understanding of the promise that Christ had died for sinners and therefore for me. But that is nothing like the "ah-ha" moment that is coming. Whether by rapture or by death, I am expecting an epiphany.
Meditation for the week of August 11, 2019
For Archived Radio Programs go here
For Archived Meditations go here
THREE MUSTS:
Do not marvel that I said to you, 'You must be born again.' (John 3:7 NKJV)
And as Moses lifted up the serpent in the wilderness, even so must the Son of Man be lifted up, that whoever believes in Him should not perish but have eternal life. (John 3:14-15 NKJV)
Nor is there salvation in any other, for there is no other name under heaven given among men by which we must be saved."
(Acts 4:12 NKJV)