BDCMINISTRIES
Greetings dear friends,
I'm Bruce Collins. I am an evangelist and teacher of the Bible. I became a child of God by faith in the person and work of the Lord Jesus Christ on November 24, 1963 and have tried to serve the Lord in various capacities since then. I am presently a self-employed minister of the Gospel. I do not work for an organization but I try to serve the Lord in the best way that I can wherever He leads. That means that my wife and I have our financial needs met by the Lord as we do not have a salary from any church or organization. We believe that the Gospel is free so we have never made a charge for our services.
I am available for Bible studies, conferences, Gospel meetings, children's meetings and camp work. I have traveled throughout much of the United States and Canada in my service for the Lord. My wife helps me, and we attend the Bethany Bible Chapel in Cedar Falls, Iowa. They have encouraged us by commending us for this work.
My wife, Geneva and I live in Waterloo, Iowa. We have four children. One of them is married and has provided us with two grandchildren.
This web site has a weekly meditation that I hope will encourage you. It has links to literature and organizations that I think are helpful. You can also listen to my weekly radio program here.
Yours because of Calvary,
Bruce Collins
3828 Memory Lane
Waterloo, IA 50701-9351
319.230.9140
collinsbd@hotmail.com
INDEX:
If you would like to read a classic Gospel Tract called GOD'S WAY OF SALVATION go here
For another classic Gospel Tract called God is Satisfied! Are You go here
For Important Personal Scriptures go here
For an open letter to my friends and neighbors go here
For the story of how I was saved go here
For the story of how my wife was saved go here
For the story of Merlyn VandeKrol–You Have About a Year to live! (a friend who died from cancer) go here
For the Rest of the Story–Merlyn's Wife Karen go here
For answers to questions that I have been asked go here
For a women's perspective on head coverings go here
For a manual on how to preach the Gospel that has been used with camp counselors go here
For an OVERVIEW OF THE BIBLE AND SOME PRINCIPLES OF BIBLICAL INTERPRETATION go here
For a PROPHETIC CHART go here
For the story of the George Street Evangelist go to George Street
For links to other helpful websites go here
For the On-Line Blue Letter Bible go here
For the On-Line Bible Studies Tool go here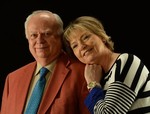 We Need to Keep on Keeping On
We give thanks to God always for you all, making mention of you in our prayers, remembering without ceasing your work of faith, labor of love, and patience of hope in our Lord Jesus Christ in the sight of our God and Father.
(1 Thessalonians 1:2-3 NKJV)
But let us who are of the day be sober, putting on the breastplate of faith and love, and as a helmet the hope of salvation. (1 Thessalonians 5:8 NKJV)
Faith, Hope and Charity
These are the permanent gifts mentioned in 1 Corinthians 13. They are important aspects of our relationship with the Lord. They encourage us to "keep on keeping on." Paul mentions these three aspects of our relationship with the Lord twice in 1 Thessalonians. The Thessalonians had wondered what happens to those believers who die before the Lord returns. Are they without a future? Do they have "no hope?" This letter answers that question.
Faith
Saving faith is confidence in the Lord. It means that we trust Him. It is often expressed by the word belief or believing. The word faith is used in different ways in the Bible. Sometimes it is THE faith, that is, it is the body of truth that we believe. Sometimes it is a command. The Lord says to repent and to believe the Gospel. Sometimes it is the permanent character of the person, that is, it is the believing one. John 3:16 says, "For God so loved the world that He gave His only begotten Son, that whoever believes in Him (the believing one) should not perish but have everlasting life." Sometimes it is a gift when it comes to our practical relationship with the Lord as in 1 Corinthians 13:2. But in all cases it means that we have enough confidence in the Lord and His word to follow His instructions and to believe in His promises. A work of faith would have to be a work that we do because the Lord and not man has instructed us to do it.
Hope
Hope in the Bible has to do with our future. Before we were saved, we had "no hope (Ephesians 2:12)." But believers have a secure future. We can look forward to dwelling in the Father's house (John 14). The theme of this first epistle to the Thessalonians is that by trusting in Christ they have been delivered from the wrath to come and they are to look for His Son from heaven (1 Thessalonians 1:9-10). Those who died before the Lord comes will not miss out but will be included when the Lord returns.
Hope has nothing to do with hoping to be saved. It has everything to do with believing that the Lord is going to return and that those who are saved will be caught up to meet the Lord in the air. Those who are unbelievers or lost will be left to endure the tribulation period and to ultimately die and go to hell. We all need something that encourages us, and the early Christians were suffering persecution and martyrdom, but their encouragement and their hope was in the Lord's soon return. While His return has not happened yet, His promise is sure. It is still that promise which encourages the believer to remain faithful to the Lord. The timing of His return has not been given to this generation. But the encouragement that it could happen at any time is encouraging unless we have our hope in the riches and pleasures of this world. Because our hope is in an unfulfilled promise, we must have patience and wait for the fulfillment. That is why hope teaches us patience.
Charity
Charity or love is a divine attribute that only God Himself can truly say He has. He loved the world as in John 3:16. This attribute requires us to forget about self and to put the Lord and His Son first. We also put the welfare of others ahead of our own. Instead of wanting our will to be done, we want the Lord's will to be done. Our prayers should be self-sacrificing prayers. Who can say that we have lived up to that concept of love? Putting others first. Selling all that we have and giving to the poor. Loving our enemies and praying for those who despitefully use us. Taking up our cross (not our burdens but the instrument on which we are willing to die) and following the Lord. Who of us has done that? And yet that is why our labor should be a labor of love or of self-sacrifice.
Summary
It would seem to me that while we might fall short with regard to always having confidence or faith in God's promises on a daily basis, while we might not always love as God loves us, while we might have times when we wonder if God really is going to return, yet we need to remember that these are the things that help us "keep on keeping on." In the last verse quoted, faith and love cover the heart (breastplate). Our affections are going to be controlled by Whom we believe and by our confidence in His love. Hope provides a helmet. A helmet protects the mind. Unless we believe that the Lord is going to return and that He could return today, our minds may wander and Satan may use his fiery darts of doubt to discourage us. Let those of us who are believers continue in our work of faith, labor of love, and patience of hope.
Meditation for the week of October 13, 2019
For Archived Radio Programs go here
For Archived Meditations go here
THREE MUSTS:
Do not marvel that I said to you, 'You must be born again.' (John 3:7 NKJV)
And as Moses lifted up the serpent in the wilderness, even so must the Son of Man be lifted up, that whoever believes in Him should not perish but have eternal life. (John 3:14-15 NKJV)
Nor is there salvation in any other, for there is no other name under heaven given among men by which we must be saved."
(Acts 4:12 NKJV)