BDCMINISTRIES
Greetings dear friends,
I'm Bruce Collins. I am an evangelist and teacher of the Bible. I became a child of God by faith in the person and work of the Lord Jesus Christ on November 24, 1963 and have tried to serve the Lord in various capacities since then. I am presently a self-employed minister of the Gospel. I do not work for an organization but I try to serve the Lord in the best way that I can wherever He leads. That means that my wife and I have our financial needs met by the Lord as we do not have a salary from any church or organization. We believe that the Gospel is free so we have never made a charge for our services.
I am available for Bible studies, conferences, Gospel meetings, children's meetings and camp work. I have traveled throughout much of the United States and Canada in my service for the Lord. My wife helps me, and we attend the Bethany Bible Chapel in Cedar Falls, Iowa. They have encouraged us by commending us for this work.
My wife, Geneva and I live in Waterloo, Iowa. We have four children. One of them is married and has provided us with two grandchildren.
This web site has a weekly meditation that I hope will encourage you. It has links to literature and organizations that I think are helpful. You can also listen to my weekly radio program here.
Yours because of Calvary,
Bruce Collins
3828 Memory Lane
Waterloo, IA 50701-9351
319.230.9140
collinsbd@hotmail.com
INDEX:
If you would like to read a classic Gospel Tract called GOD'S WAY OF SALVATION go here
For another classic Gospel Tract called God is Satisfied! Are You go here
For Important Personal Scriptures go here
For an open letter to my friends and neighbors go here
For the story of how I was saved go here
For the story of how my wife was saved go here
For the story of Merlyn VandeKrol–You Have About a Year to live! (a friend who died from cancer) go here
For the Rest of the Story–Merlyn's Wife Karen go here
For answers to questions that I have been asked go here
For a women's perspective on head coverings go here
For a manual on how to preach the Gospel that has been used with camp counselors go here
For an OVERVIEW OF THE BIBLE AND SOME PRINCIPLES OF BIBLICAL INTERPRETATION go here
For a PROPHETIC CHART go here
For a published article on FAITh, What is it? go here
For the story of the George Street Evangelist go to George Street
For links to other helpful websites go here
For the On-Line Blue Letter Bible go here
For the On-Line Bible Studies Tool go here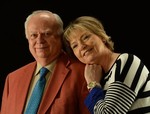 Bruce and Geneva
A Time To Die
To everything there is a season,
A time for every purpose under heaven: (Ecc 3:1 NKJV)
And a time to pluck what is planted; (Ecc 3:2 NKJV)
First Thing in the Morning
Some people turn on the news the first thing in the morning. Some people pray and read their Bibles. Before I read and pray, I usually have a cup of coffee and a couple of pieces of toast with peanut butter and provolone cheese. Then I am ready to engage my brain for the day, and I try to spend some time reading and praying. But before I do that, I also check the obituaries which my newspaper kindly sends to me each morning. And then I check the recent posts on Facebook. Often I see the obituaries of some of my acquaintances and friends.
I have reached an age where it is usual to find that people my age and younger have reached that "time to die." Even my high school class has a website where obituaries of my high school classmates are posted. The notices are coming more and more often.
Remember
I remember when it was customary to ask elementary students what they wanted to be when they grew up. Most of us wanted to be cowboys or firemen or policemen (remember I grew up in the 50's and 60's). We definitely thought life would go on forever and we would have plenty of time to enjoy life and reach our goals if we had any. But then one day, we woke up and realized that our 40 years of fruitful activity in this life was about over. For me, what is really discouraging is to see my friends die, and recently there have been quite a few. And then I come back to the disillusioned writer of the Ecclesiastes. To everything there is a season, a time to be born and a time to die.
It seems like it was just yesterday, that winter gave way to Spring. We set our clocks forward to give us an extra hour of sunlight in the evening. We planted our gardens, and our farmers planted the fields. We played and picniced and swam (as much as we could considering the pandemic). And now we see the harvest. The field corn is starting to dry up. The tomatoes are just about done bearing fruit. Apples are about ready to be picked. The pumpkins are about to make their appearance. The trees are beginning to turn colors. That glorious time called FALL is here. There is only one problem with FALL as far as I am concerned. That problem is called winter. We get to look forward to north winds, snow and 20 below weather in January. I had been so looking forward to spring just a little while ago. But the seasons have changed and winter is coming. We are reminded that there is always an afterward.
Afterwards
"And as it is appointed for men to die once, but after this the judgment, so Christ was offered once to bear the sins of many. To those who eagerly wait for Him He will appear a second time, apart from sin, for salvation (Heb 9:27-28 NKJV)."
When all the dreams (and disappointments of life) are over, there is an afterwards. Many people think that when they die it is all over. Imagine their surprise when they find out that they were wrong and that a new season is just beginning. For the believer that season will be spring, summer and fall all rolled into one. For the unbeliever, well let's just say that they will wish that they were enjoying winter.
How quickly time passes in this life. But that season called eternity will be forever. This is the season to make sure that you are prepared for eternity.
The hymn writer has penned these words:
Eternity time soon will end.
It's fleeting moments pass away.
O sinner say, where will you spend
Eternity's unchanging day?
Meditation for the week of September 12, 2021
Archived Meditations
For Archived Radio Programs go here
For Archived Meditations go here
THREE MUSTS:
Do not marvel that I said to you, 'You must be born again.' (John 3:7 NKJV)
And as Moses lifted up the serpent in the wilderness, even so must the Son of Man be lifted up, that whoever believes in Him should not perish but have eternal life. (John 3:14-15 NKJV)
Nor is there salvation in any other, for there is no other name under heaven given among men by which we must be saved."
(Acts 4:12 NKJV)