BDCMINISTRIES
Greetings dear friends,
I'm Bruce Collins. I am an evangelist and teacher of the Bible. I became a child of God by faith in the person and work of the Lord Jesus Christ on November 24, 1963 and have tried to serve the Lord in various capacities since then. I am presently a self-employed minister of the Gospel. I do not work for an organization but I try to serve the Lord in the best way that I can wherever He leads. That means that my wife and I have our financial needs met by the Lord as we do not have a salary from any church or organization. We believe that the Gospel is free so we have never made a charge for our services.
I am available for Bible studies, conferences, Gospel meetings, children's meetings and camp work. I have traveled throughout much of the United States and Canada in my service for the Lord. My wife helps me, and we attend the Bethany Bible Chapel in Cedar Falls, Iowa. They have encouraged us by commending us for this work.
My wife, Geneva and I live in Waterloo, Iowa. We have four children. One of them is married and has provided us with two grandchildren.
This web site has a weekly meditation that I hope will encourage you. It has links to literature and organizations that I think are helpful. You can also listen to my weekly radio program here.
Yours because of Calvary,
Bruce Collins
3828 Memory Lane
Waterloo, IA 50701-9351
319.230.9140
collinsbd@hotmail.com
INDEX:
If you would like to read a classic Gospel Tract called GOD'S WAY OF SALVATION go here
For another classic Gospel Tract called God is Satisfied! Are You go here
For Important Personal Scriptures go here
For an open letter to my friends and neighbors go here
For the story of how I was saved go here
For the story of how my wife was saved go here
For the story of Merlyn VandeKrol–You Have About a Year to live! (a friend who died from cancer) go here
For the Rest of the Story–Merlyn's Wife Karen go here
For answers to questions that I have been asked go here
For a women's perspective on head coverings go here
For a manual on how to preach the Gospel that has been used with camp counselors go here
For an OVERVIEW OF THE BIBLE AND SOME PRINCIPLES OF BIBLICAL INTERPRETATION go here
For a PROPHETIC CHART go here
For a published article on FAITh, What is it? go here
For the story of the George Street Evangelist go to George Street
For links to other helpful websites go here
For the On-Line Blue Letter Bible go here
For the On-Line Bible Studies Tool go here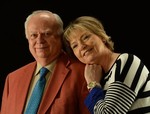 Things the Lord did not Delegate
Luke 24:15 Jesus HIMSELF drew near
The Lord is touched by the feelings of our infirmities, and He took time to make two sad people glad. The two traveling from Jerusalem to Emmaus had thought all hope was lost when the Lord was crucified. Instead they were rewarded with His very presence after the resurrection and a promise of future glory. They were traveling about 7 miles with the Lord as they had the Scriptures opened to them by Him. When they had Him revealed to them in the evening meal that they hosted, He disappeared, and they went back to tell the others in Jerusalem. It must have been dark. They didn't have flashlights or streetlights. And it probably took them about two hours to walk that distance. I doubt that they ran in the dark. Maybe they found a donkey. But their experience was so astounding that they couldn't hold it in. When we met the Lord and He spoke peace to our souls in salvation, were we as excited as they were? I wonder who we have told that the Lord has met us?
Have you ever been "down" and wondered if all hope was lost in this life? I think the Lord still draws near and speaks peace to our souls. He may do it through the person of the Holy Spirit, but I think we should expect Him to turn our sorrow into joy, and we should want to rejoice with others when He does that.
Luke 24:36 Jesus HIMSELF stood in the midst of them
The Lord had a concern for His disciples after the resurrection and he met them while they were shut in (likely with locked doors) for fear of the Jews. They were likely afraid that the ones who had slain the Lord might very well come for them. We wonder sometimes what the most dangerous creature on earth is. The answer is MAN. When MAN goes on a rampage, man can destroy all those who they hate and with whom they disagree. Man likes to play "king of the hill." But again, the Lord was not like those who hated Him without a cause. He cared for His disciples and met them in that upper room without unlocking the door. He showed them His hands and His side, and He ate with them. And He spoke peace to them rather than fear and hatred. Then were the disciples glad when they saw the Lord.
Luke tells us that the eleven were there in the upper room, but, somehow, Thomas was not there when the Lord miraculously appeared. But the Lord didn't forget him. He appears to him the next week and speaks peace to his soul. He is told to not be faithless but believing. He offers him his hands and his side since Thomas had said that he needed to see those wounds in order to believe. Thomas was not talking about believing in the Lord as the Messiah. He was having trouble believing in the resurrection. He melted before the Lord and recognized the resurrected Lord Jesus as his Lord and His God.
The Lord met the honest objection of Thomas who was a loyal follower of the Lord. He will also meet any honest objections we may have. The Lord really does give us every reason to believe in Him for salvation. He also gives us every reason to trust Him when we have difficulty understanding His love and care in the practical day to day problems of life.
Other Things not Delegated
The Lord is not going to delegate His coming again for the church to deliver them from the "wrath to come." See 1 Thessalonians 4:16. He, as a loving faithful bridegroom, is going to come for His bride HIMSELF. He is also going to come HIMSELF to the Mount of Olives to set up His kingdom and to defeat his foes. See Acts 1:11. At that time the remnant of Israel that is left will finally realize and confess that they killed their Messiah. Then the Lord will physically save the nation.
This world is not done with the Lord. He is coming again. Maybe today!
Meditation for the week of November 3, 2019
For Archived Radio Programs go here
For Archived Meditations go here
THREE MUSTS:
Do not marvel that I said to you, 'You must be born again.' (John 3:7 NKJV)
And as Moses lifted up the serpent in the wilderness, even so must the Son of Man be lifted up, that whoever believes in Him should not perish but have eternal life. (John 3:14-15 NKJV)
Nor is there salvation in any other, for there is no other name under heaven given among men by which we must be saved."
(Acts 4:12 NKJV)